Allow me to introduce myself:


The basics
Name: Danny
Age: 22
Location: Washington state
Single/Taken: Married
Are you in any of our sister communities? Check out the user info to see our sister communities
Nope
All about you
Give us a five interesting facts about yourself:
- I have been in the Military since I was 18 and ROTC since I was 13.
- I have been stop lossed by the Marines and sent back to Iraq to serve a second tour.
- I have been to over 20 countries but only 5 states in the US.
- My wife was the first girl I ever kissed, when I was 13.
- I have a twin brother who is kicked out of our family, and 9 other siblings. Cox (21) who serves with me in the Marines. Zakaria, Zane, Kirsty and Jess who are all 19. They were born two sets of twins, very rare stuff I guess. Kyle, george and Siruis (11) Triplets and Ashliegh (9).
Just for the record. Me and Cox are both Marines, Zakaria wants to inlist in the Marines and Kristy into the Navy but thats it, we arent all forced to be in the Military.

Describe a personal achievement you are proud of:
I am very proud to be a Marine, very proud that I served over in Iraq. I was proud to protect my country and help the people over there. I wouldnt change any of it. Sometimes it was hard, and often boring for stretches of time, but I know that I am doing some good.

What is a common misconception/stereotype people often have of you at first glance?
Uh, most people think that because we have a big family that we are all poor or underachievers. My whole family gets recognized for the things that they do. I am not any different.

Pick a controversial issue(s) you are very opinionated and passionate about. Describe why:
Being in the Military I feel like I should open a few eyes about just what it is like to be in a place like that and have to come back to a normal life. Everyone else thinks "oohh we were gone, we shot guns, we came back. End of story" but there is so many things that they dont know about. We are over there, we have to shoot at LITTLE KIDS. Like..8-17. Who are holding guns to us. You have to kill people, watch people be killed. Live in fear of who is around you and what they are thinking. Then when the Army thinks that you have done your duity they ship you back home and throw you right back into civilian life. Life were people arent eating out of cans, or always shooting guns. It is hard shit. You become paranoid over there, and you get back and you are afraid of everything. Jumpy. You cant think of things like going out to eat. Some cant find work, or start to drink and dont stop. Some go insane from going from being bombed and shot at to laying in a warm cozy house. I feel like people should really think about it twice before they think to talk bad about the people over seas. It doesnt just end when we get home. Some, like me, get fucked by the army and have to go back, some dont make it back into civilian life. The people over there are fighting so you can stay all cozy in your life style, so show them a little support when they get home. Send them a letter, tell them thanks, anything. Because not everyone makes it back, and the ones who do watched their friends die.

The fun stuff:
If you could look like any celebrity, who would it be? (Post a picture)
Uh, I would like to look like Channing Tatum because my wife loves him.


Name your top five favorite bands:
- Kanye West
- 2 Pac
- Blaqk Audio
- Metallica
- Staind

Name your all time favorite book:
All Quiet on the Western Front
If you could bring someone famous back from the dead to speak to, who would it be & why?
I would probably bring back Elvis because he was cool and I would want to know why he OD
And finally...:
Show us 3-4 good pictures of yourself: (Non photo shopped; no crazy angles)


Me and Cox in Kuwait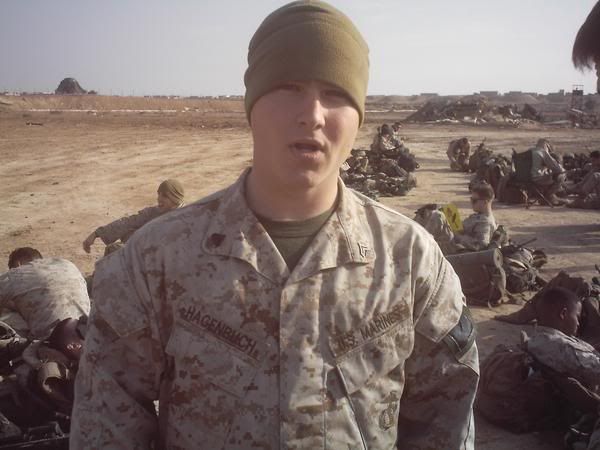 Me in Iraq



Me and my wife Maegan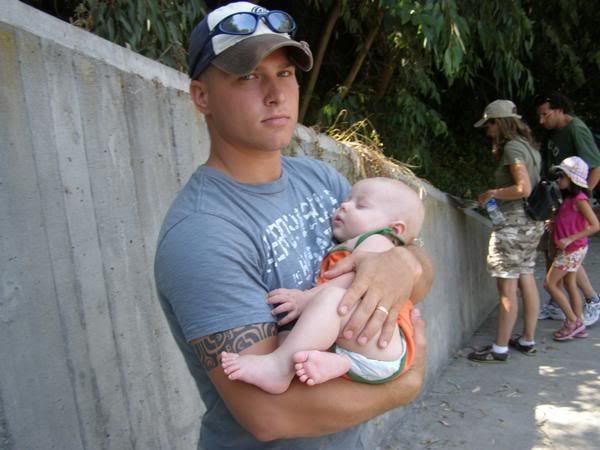 Me and my son Keagan
And a photo to use for the member's page if you're accepted: Resize to 200X200 if possible
any of them is fine.
How did you find this community (If you were promoted, tell us by who)
I just did a search for rating communities.